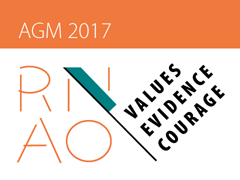 The countdown to one of RNAO's most anticipated events of the year has begun.
Prominent political leaders, RNAO members and other nurses from every facet of our health system will come together April 27-29 at the Hilton Toronto for our 92nd Annual General Meeting.
Embracing the theme Values, Evidence and Courage, the three-day event will kick off with the opening ceremonies and stakeholder reception on Thursday, April 27, in the evening. Join us to hear Health Minister Eric Hoskins, PC Leader Patrick Brown, and NDP Health Critic Frances Gelinas address our members. In addition, entertainment and a complimentary reception will be provided for RNs, NPs, and nursing students to network.
Register online for our AGM on April 27-29, 2017
The main event on Friday, April 28 will include a speech by Premier Kathleen Wynne, the results of our One member, one vote, and the announcement of RNAO's next president-elect. Also a number of member resolutions will be brought forward. This year's resolutions include a call to advocate for a "health in all policies" approach to be implemented within Ontario to promote population health and combat growing health inequalities; a rural, remote and/or northern education initiative to augment the nursing education initiative; and a call for more funding for transportation services for seniors.
RNAO CEO Doris Grinspun and President Carol Timmings will also give their reports, highlighting the work the association has done over the past year. The evening will close with the President's Banquet where RNAO will honour the winners of the Recognition Awards and Media Awards.
The AGM will close on Saturday, April 29 with interest group meetings and an exciting closing keynote panel discussion on assisted dying and how the new law affects your practice. The panel will include guest speakers such as Chief Coroner for Ontario Dr. Dirk Huyer, Ethicist and Policy Advisor in Sunnybrook's Ethics Centre Dr. Sally Bean, Chief Nursing Executive and Vice-President of Clinical Programs at the Ottawa Hospital Dr. Debra Bournes, and advocate for medically-assisted dying Maureen Taylor. The panel will be moderated by The Globe and Mail public health reporter Andre Picard.
Join us for this special nursing celebration to honour 92 years of success in the nursing profession and in health care.